This page summarizes a learning activity, developed in part by SolCAP, that is found in the Plant and Soil Sciences eLibrary as well as here. It discusses the basic process used in a traditional breeding program. Crossing, genetic variation, selection, and elements of DNA technology are discussed within this activity. The material is aimed towards high school or introductory life science undergraduate students.
Introduction
The plant breeding process requires a number of steps and a total of 10-12 generations to complete. An interactive animation has been created to help you/your students understand the general steps involved. At the completion of this activity you/your students should be able to:
State the expected number of years it takes to develop a cultivar in traditional breeding programs and explain why it takes that long.
Define the terms homozygous and heterozygous.
Explain what molecular markers are and how they are used in a traditional breeding program.
Identify the point in the breeding program during which the breeder works with the most genotypic variation. 
Identify the point in the breeding program during which the breeder plants lines in the most locations.
Explain how and when genetic engineering can work in conjunction with traditional breeding.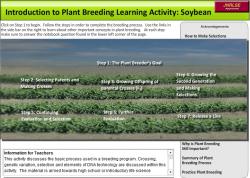 Explore the Plant Breeding Learning Activity: Soybean
Additional Resources
The Plant and Soil Sciences eLibrary  [Online]. Department of Agronomy and Horticulture, University of Nebraska-Lincoln. Available at: http://passel.unl.edu (verified 1 Feb 2012).
Funding Statement
Development of this activity was supported in part by the National Institute of Food and Agriculture (NIFA) Solanaceae Coordinated Agricultural Project, agreement 2009-85606-05673, administered by Michigan State University and the National Science Foundation (NSF), Division of Undergraduate Education, National SMETE Digital Library Program, Award #0938034, administered by the University of Nebraska. Any opinions, findings, conclusions, or recommendations expressed in this publication are those of the author(s) and do not necessarily reflect the view of the United States Department of Agriculture or NSF.
PBGworks 1109