This video tutorial introduces the marker search tool ("Markers") in the breeders toolbox of the Sol Genomics Network (SGN). A pdf version of the tutorial is available at the bottom of the page.
Introduction
The Sol Genomics Network, also referred to as "SGN", is home to numerous databases with a wealth of Solanaceae related information including molecular markers, genetic and physical maps, metabolic pathways, genes, and entire genomes. Although SGN was developed with researchers in mind, there are tools specifically designed for plant breeders. These tools can be found in the "Breeders Toolbox" (Fig. 1). This tutorial focuses on the marker search tool ("Markers").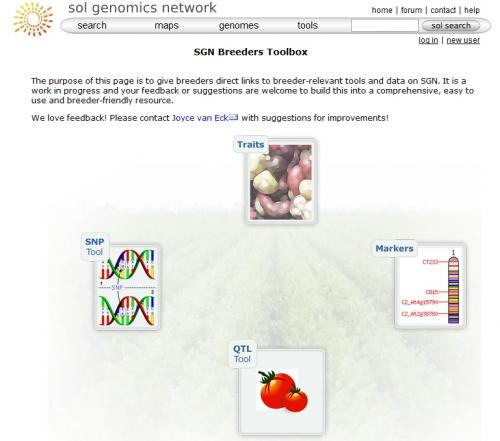 Figure 1. Screenshot of the Sol Genomics Network (SGN) breeders toolbox home page. Screenshot credit: Heather Merk, The Ohio State University.
Objectives
After completing this tutorial you should be able to:
Locate the breeders toolbox on the Sol Genomics Network (SGN)
Locate the marker search tool in the breeders toolbox
Search for markers by name using the marker search tool
Search for markers by criteria other than marker name, such as the species a marker has been mapped
YouTube version of the Tutorial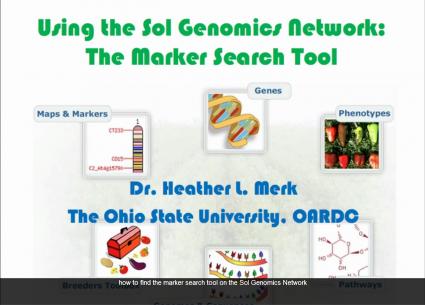 External Link
The Sol Genomics Network [Online]. Available at: solgenomics.net/ (verified 12 May 2012).
Additional Resources
Funding Statement
Development of this page was supported in part by the National Institute of Food and Agriculture (NIFA) Solanaceae Coordinated Agricultural Project, agreement 2009-85606-05673, administered by Michigan State University. Any opinions, findings, conclusions, or recommendations expressed in this publication are those of the author(s) and do not necessarily reflect the view of the United States Department of Agriculture.
PBGworks 1047