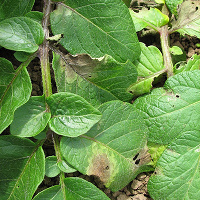 Late blight is a serious disease of potato and tomato family (Solanaceous) crops worldwide that can be difficult to control organically. eOrganic presenters Dr. Sally Miller of Ohio State University, Dr. Meg McGrath of Cornell University, and Dr. Alex Stone of Oregon State University discussed the 2009 epidemic and how to diagnose, prevent, and manage late blight on organic farms.
For additional webinars on late blight presented in 2010, see:
Late Blight Management on Organic Farms: 2010 Webinar
Late Blight Control in Your Organic Garden: 2010
---
This is an eOrganic article and was reviewed for compliance with National Organic Program regulations by members of the eOrganic community. Always check with your organic certification agency before adopting new practices or using new materials. For more information, refer to eOrganic's articles on organic certification.
eOrganic 4868