Craig Cogger, Washington State University
Andy Bary, Washington State University
Doug Collins, Washington State University
John McQueen, Oregon State University
Alexandra Stone, Oregon State University
Started in 2002, this integrated research program is focused on sustainable and organic production systems for small-scale, direct-market vegetable crop production. The goal is to work with farmers to develop management systems that utilize local inputs to produce high-quality, high-value crops efficiently and profitably in an environmentally sustainable manner.
Visit the Organic Farming Systems Research project in Puyallup, WA, and learn how the project is managed through a virtual tour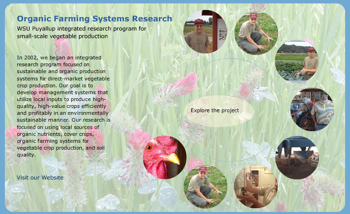 This is an eOrganic article and was reviewed for compliance with National Organic Program regulations by members of the eOrganic community. Always check with your organic certification agency before adopting new practices or using new materials. For more information, refer to eOrganic's articles on organic certification.
eOrganic 5590